Cylindrical roller bearings

Cylindrical roller bearings with cage are units comprising solid inner and outer rings together with cylindrical roller and cage assemblies. The outer rings have rigid ribs on both sides or are without ribs, the inner rings have one or two rigid ribs or are designed without ribs. The cage prevents the cylindrical rollers coming into contact with each other during rolling.

The cylindrical roller bearings are very rigid, can support high radial loads and, due to the cage, are suitable for higher speeds than the full complement designs. Bearings with suffix E have a larger roller set and are thus designed for extremely high load carrying capacity.

The bearings can be taken apart and can therefore be fitted and dismantled more easily. Both bearing rings can therefore have an interference fit.

Cylindrical roller bearings with cage are available as non-locating, semi- locating and locating bearings.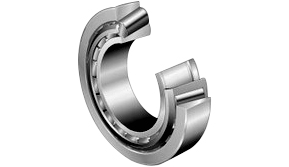 Tapered roller bearings

Tapered roller bearings are characterized by high radial and axial load carrying capacity and by a large usable speed range. They are efficient at supporting forces and ensure a precise and rigid shaft guidance system due to the large effective distance between the bearings. They are adjustable, can be dismantled, and are therefore easy to fit.
Barrel roller bearings

Barrel roller bearings are single row, self-aligning roller bearings. They comprise solid outer rings with a concave raceway, solid inner rings with two ribs and a cylindrical or tapered bore and barrel rollers with cages. The bearings cannot be dismantled.

Barrel roller bearings are particularly suitable where high radial shock type loads occur and misalignments must be compensated, see Compensation of angular misalignments. Their axial load carrying capacity is small.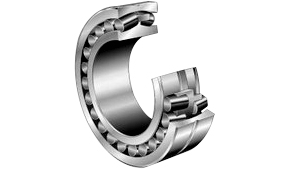 Spherical roller bearings

Spherical roller bearings are double row, self-retaining units comprising solid outer rings with a concave raceway, solid inner rings and barrel rollers with cages. The inner rings with cylindrical or tapered bores.

The symmetrical barrel rollers freely align themselves to the concave outer ring raceway. As a result, shaft deflections and mislignments of the bearing seats are compensated.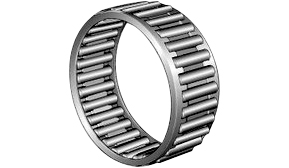 Needle roller bearings

Needle roller bearings are single or double row units comprising cages and needle rollers.

Since their radial section is no greater than the diameter of the needle rollers, needle roller and cage assemblies allow bearing arrangements with a very small radial design envelope to be achieved. They have very high load carrying capacity, are suitable for high speeds and can be easily fitted.

If the raceways are produced to high geometrical accuracy, bearing arrangements with high runout accuracy can be achieved.

The radial internal clearance can be influenced by the needle roller sort and by the shaft and housing tolerance.

Needle roller and cage assemblies require a hardened and ground raceway on the shaft and in the housing.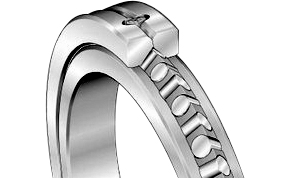 Crossed roller bearings

Crossed roller bearings are bearings for precision applications that correspond in their dimensions to ISO dimension series 18 in accordance with DIN 616. They comprise outer rings, inner rings, rolling elements and plastic spacers. The outer ring is split and is held together by three retaining rings.

Due to the X arrangement of the rolling elements, these bearings can support axial forces from both directions as well as radial forces, tilting moment loads and any combination of loads with a single bearing position. This allows designs with two bearing positions to be reduced to a single bearing position. Crossed roller bearings are very rigid, have high running accuracy and are supplied with normal clearance, little clearance or preload. The bearing outer rings can be easily located in the adjacent construction by means of clamping rings.