Season's Greeting & Holiday Notice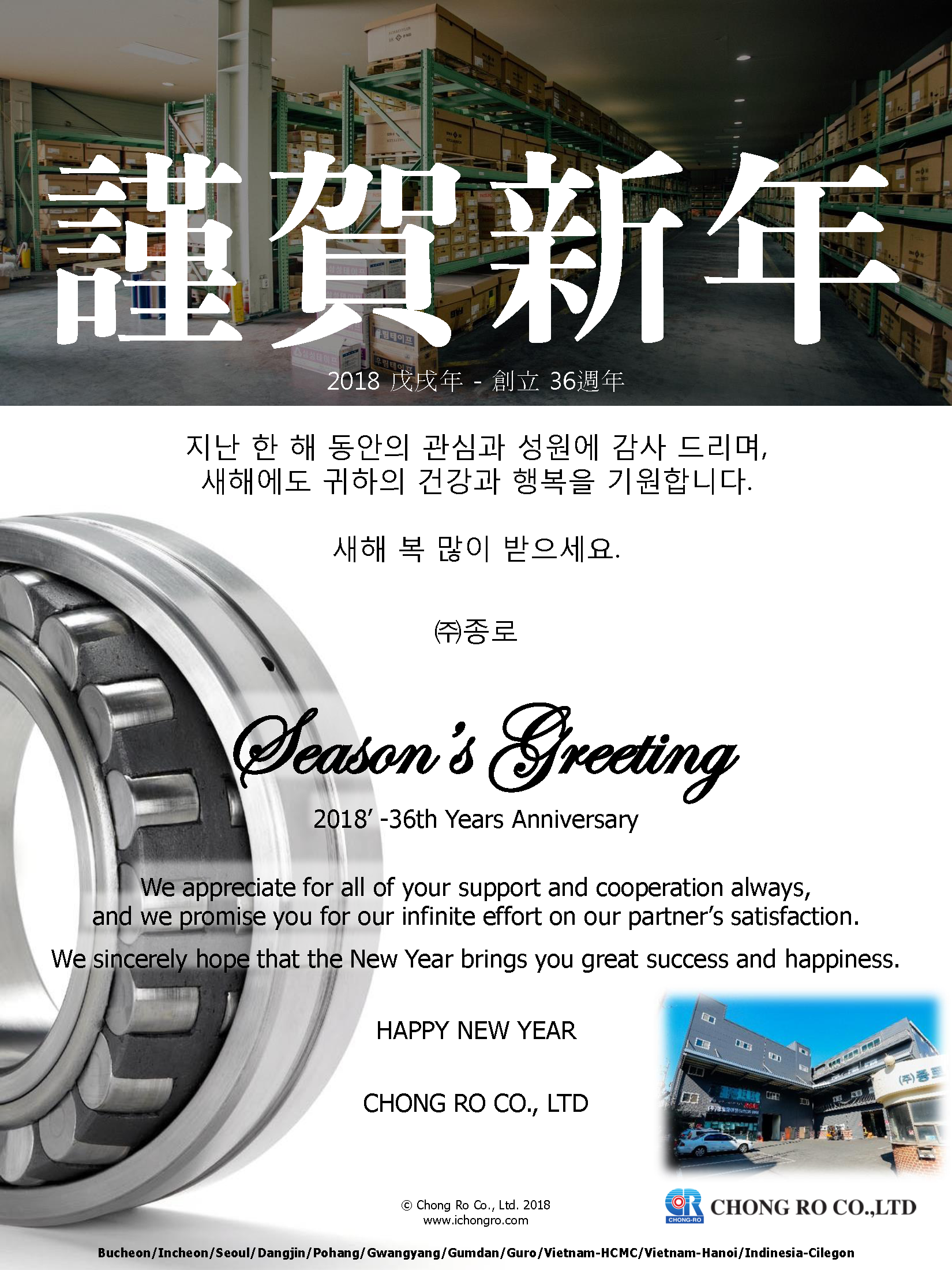 Season's Greeting and
Best Wish For A Happy New Year
Dear Customers, Suppliers and Partners,
We appreciate for all of your support and cooperation, and we promise you for our infinite effort on our partner's satisfaction.
We sincerely hope that the New Year brings you great success and happiness.

HAPPY NEW YEAR
Best Regards,
CHONG RO CO., LTD
*Please be informed our day-off, following Korean National Holiday as below;
Chong Ro DAY-OFF: Jan. 1
* During holiday, if you need any urgent, please contact to us at any time.

**1982-2018** 36th anniversary of CHONG RO CO., LTD
Bucheon H.Q. 032-235-6000
Bucheon Lostistics Center 032-235-6000
Incheon Branch 032-572-6600
Gumdan Branch 032-569-6201
Seoul Branch 02-2628-5885
Dangjin Branch 041-358-8200
Pohang Branch 054-272-6201
Gwangyang Branch 061-762-6301
Guro Branch 02-6953-6002
Vietnam Branch +84-616-251-776(HCMC)
Vietnam Branch +84-24-7302-0304(Hanoi)
Indonesia Branch +62-254-38-6006(Cilegon)
Facebook: @ichongro
Instagram: @ichongro_bearing
CHONG RO CO., LTD
Attachment : 171215_2018년 신년 연하장(Sample)-Big-(주)종로,종로베어링,종로베아링,베어링,베아링,FAG,SKF,NSK,NTN,IKO,COOPER,KAYDON,RKB,ILJIN,TIMKEN,KOYO,NACHI,JIB,Bearing.png