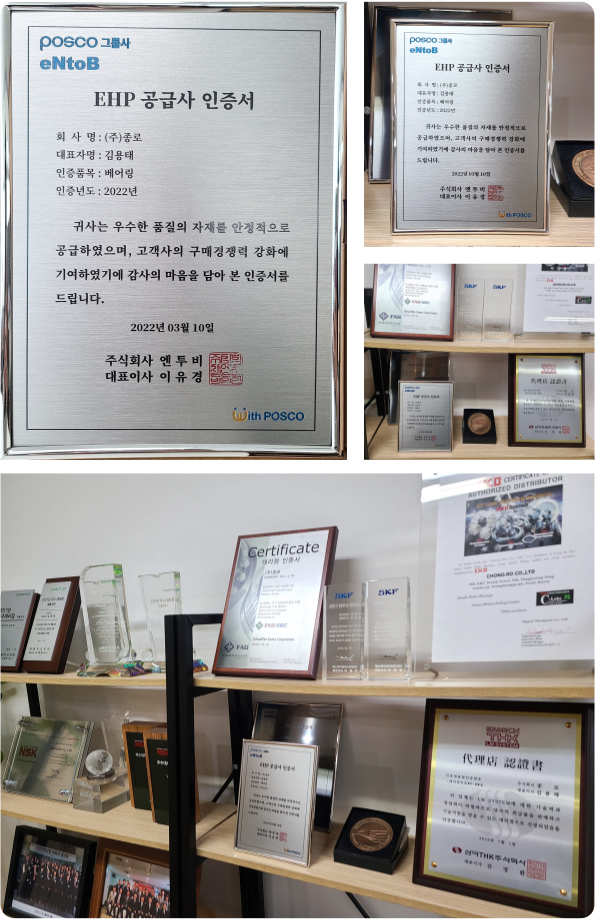 [ Certificates and Plaques ]
CHONGRO Co., Ltd. was selected as the 'EHP(eNtoB Honored Partners) Excellent Supplier' by POSCO's sourcing company, eNtoB Co., Ltd.
CHONGRO receives various certificates and plaques from our many partners every year.
For customer satisfaction, CHONGRO will continue to do our best !
Thank you very much.

CHONRO Co., Ltd
**1982-2022** 40th anniversary of CHONG RO CO., LTD
Bucheon H.Q. 032-235-6000
Bucheon Logistics Center 032-235-6000
Incheon Branch 032-569-6201
Seoul Branch 02-2628-5885
Dangjin Branch 041-358-8200
Pohang Branch 054-272-6201
Gwangyang Branch 061-762-6301
Guro Branch 02-6953-6002
LM Dpt 02-6956-6206
Cheonan Branch 041-417-6201
Vietnam Branch +84-(0)251-6251-776 (HCMC)
Vietnam Branch +84-(0)24-7302-0304 (Hanoi)
Indonesia Branch +62-(0)254-38-6006 (Cilegon)
Mail : info@ichongro.com
Facebook: @ichongro
Instagram: @ichongro_bearing
CHONGRO Co., Ltd
#Chongro #Bearing
Attachment :