2021 Online Year-end Party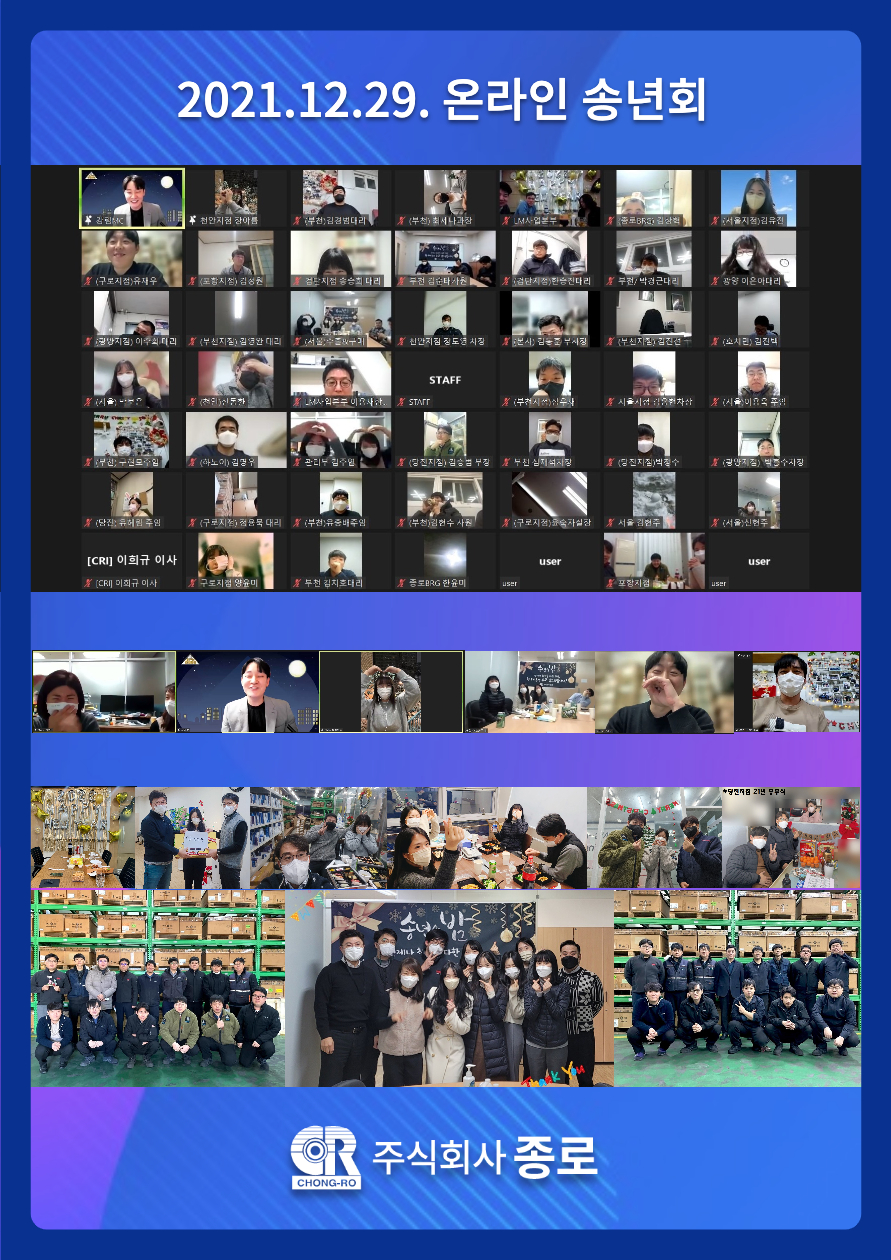 [ 2021 Online Year-end Party ]
At the end of the year 2021, CR's HQ & branches held a year-end party!
Due to COVID-19, all employees could not meet in person.
However, we met together through Zoom!
The employees connected by video communicated through the screen and chat.
The 2021 year-end party had New Year's greetings from CR's Vice President & President, and the award of .
The first-place winner was the Bucheon Logistics Team, who decorated with polaroid photos of all team members!
Lastly, we had fun recreation with a professional MC.
We hope to see each other face-to-face at the next year's party.
* This event was held in compliance with the COVID-19 quarantine guidelines.
Chong Ro Co., Ltd
**1982-2021** 39th anniversary of CHONG RO CO., LTD
Bucheon H.Q. 032-235-6000
Bucheon Logistics Center 032-235-6000
Incheon Branch 032-569-6201
Seoul Branch 02-2628-5885
Dangjin Branch 041-358-8200
Pohang Branch 054-272-6201
Gwangyang Branch 061-762-6301
Guro Branch 02-6953-6002
LM Dpt 02-6956-6206
Cheonan Branch 041-417-6201
Vietnam Branch +84-(0)251-6251-776 (HCMC)
Vietnam Branch +84-(0)24-7302-0304 (Hanoi)
Indonesia Branch +62-(0)254-38-6006 (Cilegon)
Mail : info@ichongro.com
Facebook: @ichongro
Instagram: @ichongro_bearing
Chong Ro Co., Ltd
#Chongro #Bearing
Attachment :