Interview with Kim Yong-tae, CEO of CHONGRO, introduced by Schaeffler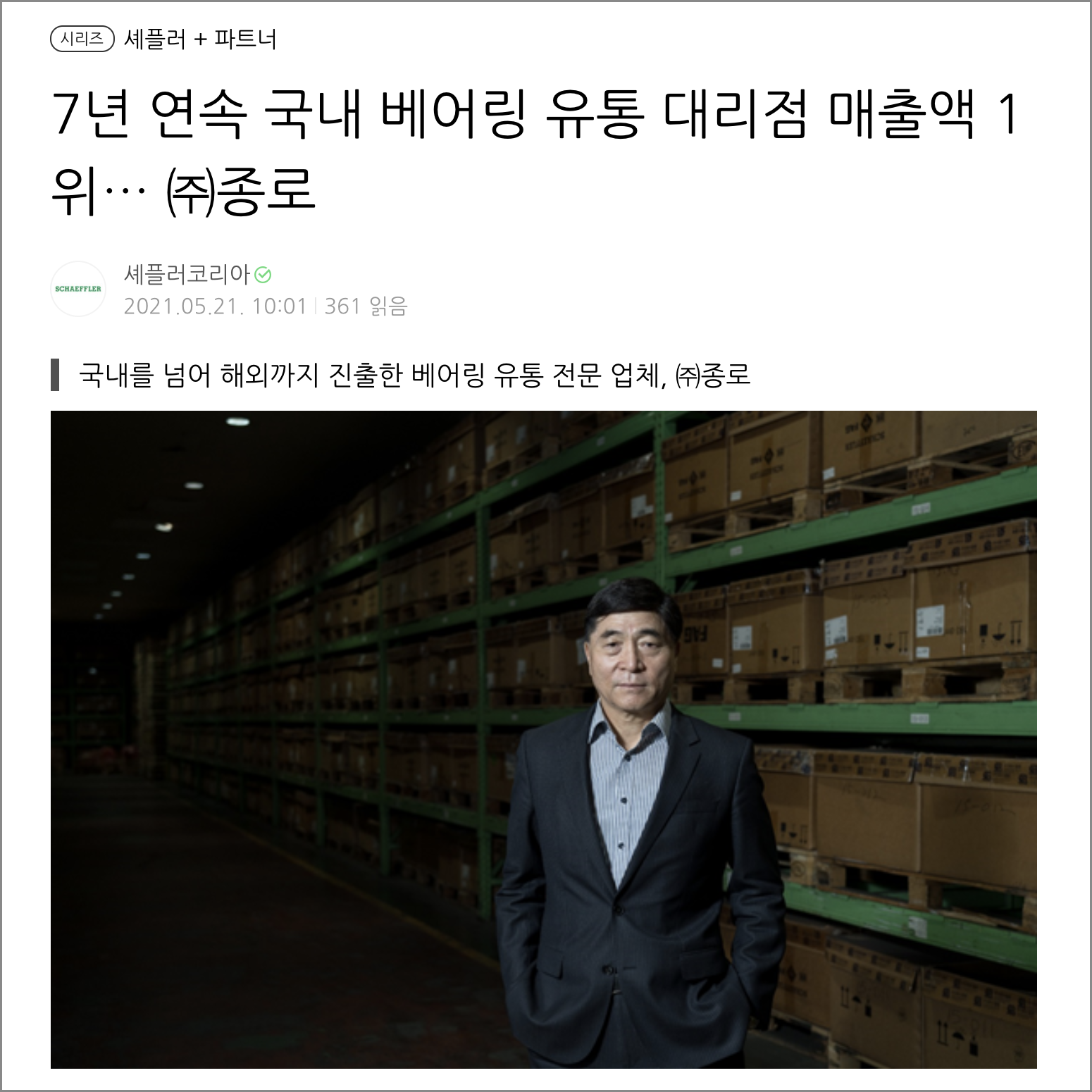 The interview with the CEO of CHONGRO Co., Ltd. has been uploaded to Schaeffler Korea's blog.
The 'Schaeffler + Partner' series introduces interviews with distributors collaborating with Schaeffler.
CHONGRO, the No. 1 bearing distributor in Korea for 7 consecutive years, was introduced.
Through the interview with CEO Kim Yong-tae, you can find out about CHONGRO's founding story, management policy, industry trends, and more.
CHONG RO CO., LTD
(Interview : https://post.naver.com/viewer/postView.naver?volumeNo=31546339&memberNo=49821023)
**1982-2021** 39th anniversary of CHONG RO CO., LTD
Bucheon H.Q. 032-235-6000
Bucheon Logistics Center 032-235-6000
Incheon Branch 032-569-6201
Seoul Branch 02-2628-5885
Dangjin Branch 041-358-8200
Pohang Branch 054-272-6201
Gwangyang Branch 061-762-6301
Guro Branch 02-6953-6002
LM Dpt 02-6956-6206
Cheonan Branch 041-417-6201
Vietnam Branch +84-(0)251-6251-776 (HCMC)
Vietnam Branch +84-(0)24-7302-0304 (Hanoi)
Indonesia Branch +62-(0)254-38-6006 (Cilegon)
Facebook: @ichongro
Instagram: @ichongro_bearing
CHONG RO CO., LTD
#CHONGRO #bearing
Attachment :